One on One with Vincent Bélanger, cellist virtuoso
This article was initially published in PMA Magazine.
They don't come more musical family than the spanning-four-generations family of 42-year-old cellist Vincent Bélanger. His relatives' musical accomplishments are too many to be enumerated here, but suffice to say that the musical career that Vincent chose for himself, and the success he achieved in it, are not uncharacteristic of his lineage.
Among his own achievements, Vincent, the 6th of seven children, performed in concert on cello for the first time at age 12, studies under award-winning French cellist Yvan Chiffoleau and took Masterclasses under the guidance of Yo-Yo Ma and Lluis Claret, received several first prizes (Médailles d'or) at France's Conservatoire National de Région de Montpellier, and played with ensembles and orchestras as far away as China and Vietnam. His first album, Là (Fidelio), released in 2011, remained on US-based HDTracks's bestseller list for weeks.
His parents were role models. He calls his father, a tenor and conductor who founded Quebec City's Opéra de Québec, a musical genius who often helped him decipher complicated scores. "Playing classical music is about being able to read text," Vincent said. "It isn't like jazz, which is a mood, a feeling. With classical music, you have to stick to a score, which is, in reality, a limited means of musical expression. But it's also about the beauty of your sound. If you're respecting the text but the sound isn't very good, then you modify things a bit. As a musical interpreter, you have to find that balance."
Part of that beauty of sound that Vincent seems to produce so effortlessly with his instrument is due to a great uncle, who posthumously passed on his cello to Vincent when his own cello was broken in a car accident serious enough to send him to a hospital. "I was on my way to play a tribute for the deceased mother-in-law of my father's cousin. I really like that cousin, so I told the doctor that unless I was hemorrhaging to death I was going to leave the hospital to perform my tribute. The doctor was kind enough to immediately do a battery of tests and send me on my way."
One of the things that struck me at one of Vincent's performances I attended was the way he spoke to the audience, as if we were all friends sharing a special moment together. "The audience is what's most important to the musician," said Vincent. "So it's important to build a rapport with the crowd, and part of that is to make me and classical music more accessible. My parents spent their lives trying to democratize opera. In my household, classical music wasn't pretentious or elitist. It was popular music. It's funny, I have a friend who, the other day, put on a record I'd never heard before, and when it was over, I said how much I liked it. And he looked at me incredulously and said: 'Well, yeah, that was Pink Floyd', and I went 'Oh, okay, sorry.'" (shrugs with a sheepish smile)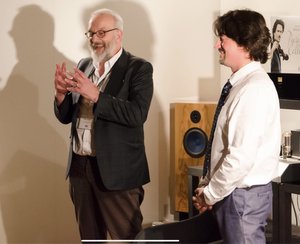 In China, he joined the China Broadcasting Chinese Orchestra (CBCO). "It was interesting," he said. "No one spoke English or French. So the conductor would vocalize how he wanted me to play a certain passage. The only word he'd say to me, that I understood, was 'feeling'. He'd gesticulate with his arms and chest and say 'feeling', with feeling. It was a lot of fun."
Was the rumour true—that once, as he took the stage as soloist during a concert with the CBCO, his cell phone started ringing loudly? (facepalms) "Imagine," he said. "It was the most embarrassing moment of my life. The orchestra was so upset. I'd been doing a live stream with my younger brother before the concert and put the volume up so he could hear me better, and I forgot to turn off my cell. (facepalms and shakes his head) I got in trouble but I still play with the orchestra. They didn't ban me."
Vincent credits a lot of his recent recording and touring success to people he met in the audio industry: Montreal Audiofest organizers Sarah and Michel, who introduced him to the audio community, the production team at GFN Productions, as well as Motet Distribution's Lily Luo and Audio Note UK's Peter Qvortrup, both of whom have, in turn, sponsored or produced some of Vincent's recordings and live events. Vincent is also musical ambassador and artistic director of Audio Note UK, a role he's occupied for the past 7 years. And then there are those people Vincent feels honored to have collaborated with on record: jazz pianist / singer Anne Bisson, with whom Vincent duetted on the best-selling Lily Luo-produced album Conversations, and Les 9 de Montréal, an ensemble of 8 cellos and a double bass with whom Vincent continues to record and tour.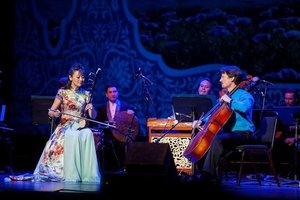 "The audio community is a best-kept secret," Vincent said. "These people are passionate about music, and passionate about supporting the musical arts."
Vincent is a regular at audio shows all over the world—part of his function as music ambassador for Audio Note UK—where he hosts the Audio Note UK exhibit room and plays the cello for new and returning visitors he's gotten to know over the years. "Audiophiles tend to be music lovers," he said. "They love all music. They'll listen to Daft Punk and Pure Cello and eclectic stuff."
Pure Cello (Audio Note UK) is an album by Vincent of, you guessed it, solo cello works. "My goal was to make one of the best solo cello albums on the market," Vincent said. "I'm very proud of it." Needless to say, in light of who Vincent surrounds himself with to record his albums, sound quality across the board is excellent.
So, is Vincent an audiophile? "I've always been an audiophile, in a way. The audiophile buys this and that to improve the sound of his system. I've always done that with my cello. The type of bow I use, the bridge, the type of maple the bridge is made of—those things were always important to me. I use a metal end pin because it gives me more focus than a graphite one. My tailpiece isn't plastic, it's ebony. I hear differences between materials, and I've always liked microdetail like that. So, when audiophiles say that everything in a system makes a difference, I believe it, because it's the same with my instrument. And it's not necessarily about price. I chose a $6000 bow over a $10,000 one because to me it sounded better. That doesn't mean the $10,000 bow might not sound better on another cello. It's about synergy.
"It's like I've always told people when it comes to my music or Audio Note UK products," said Vincent. "If you like what you hear, buy it. If you don't, don't buy it."
As a coda to our interview, I ask Vincent, a great admirer of Russian classical works, how he feels about the current trend in some countries of banning Russian musicians from playing because of the war in Ukraine. "I'm conflicted about what's happening. You know, those musicians work so hard, especially the young ones. They're independent from their government. I say let them play. Why should they suffer or be blamed for something out of their control?"
To celebrate the 30th anniversary of his career, Vincent Bélanger and Les 9 de Montréal will perform at Montreal's Audiofest March 25-27, and September 7 and 8 at La Maison Symphonique and Palais Montcalm, respectively.
Upcoming recordings by Vincent Bélanger and les 9 de Montréal include Adaptations 2 (Denis Chabot Mtl) and Chroniques de Paris (Audio Note UK).